Don't delay – renew your RNAO membership today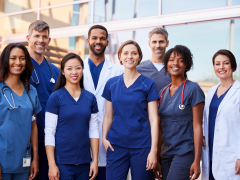 RNAO's annual membership renewal is underway. Another year of engagement and progress awaits, with the added benefit of professional liability protection (PLP) which is mandatory by CNO to practice in Ontario, included in all membership types:
$256.36 if you are an RN/NP who works full-time
$175 if you are an RN/NP who belongs to ONA
$87.83 if you are an RN/NP who works part-time (15 hours or less per week)
$87.83 if you are an RN/NP on parental leave
$87.83 if you are retired
$56.50 if you are an NP new grad
$21.60 for undergraduate nursing students
free membership if you are an RN new grad
As an RNAO member, you enjoy many exclusive automatic benefits including workshops on leadership, mentorship and other topics relevant to the nursing profession, as well as career counselling services. PLP is an automatic benefit of RNAO membership, at no extra cost.
Join our collective voice to speak out for nursing and speak out for health to improve health for all.
Renew at join.RNAO.ca. To renew automatically, sign up for continuous membership before Oct. 4, 2021. Call a membership associate at 416-599-1925 or 1-800-268-7199.
Do you have a colleague or friend who isn't an RNAO member yet? If they join now, they will get one additional month of membership free. Undergraduate nursing students can join for only $21.60 now until Oct. 31, 2022 (watch this video to hear from other students).
Now's the time all RNs, NPs and nursing students to join their professional association – spread the word.