Do you want to become a best practice champion?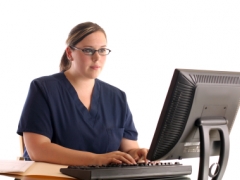 RNAO is pleased to announce a new eLearning course to become a best practice champion.
The new eLearning course highlights the six steps of successful guideline implementation: identifying a clinical or workplace issue and choosing a relevant guideline, contextualizing the guideline in consideration of local stakeholders and resources, determining facilitators and barriers, choosing implementation strategies, evaluating and monitoring outcomes and supporting sustained change.
The course takes approximately 3.5 hours to complete and includes four components: a scenario that follows an organization through the implementation process, a presentation of key concepts, an opportunity to apply new knowledge, and links to relevant resources.
With funding from the Ministry of Health and Long-Term Care, RNAO's Best Practice Champion eLearning course is available at no cost to any user. By completing this course, the requirements to become a RNAO best practice champion will be met, and a certificate of completion will be provided.
The Best Practice Champions eLearning course can be found at http://elearning.rnao.ca/ under "Champions".