Do you know someone who deserves to be recognized?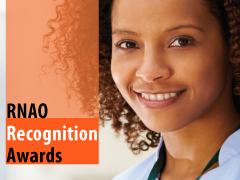 RNAO's Recognition Awards celebrate the best in nursing and health care.
Start thinking about whom you'll nominate when the award nominations open in November.
Split into five different categories – leadership, education/mentorship, group, student (undergrad) and member of the public – these awards help to foster excellence in the nursing profession and promote the profession to the public.
- Nominations will open on Nov. 5, 2018
- Deadline for submissions is Jan. 16, 2019
Looks for details on how to nominate a colleague on our website. To learn more about RNAO's Recognition Awards, please see our video.
If you have questions, please contact Patti Hogg at phogg@RNAO.ca or 1-800-268-7199 ext. 220.