Do you know an RNAO member who deserves to be recognized?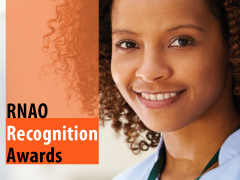 It's not too late to nominate a colleague for RNAO's Recognition Awards and celebrate the best in nursing and health care.
There are many different categories for you to choose from, including leadership awards in political action and nursing research, education/mentorship awards in student mentorship and nursing education and many more. These awards help to foster excellence in the nursing profession and promote the profession to the public.

Look for details on how to nominate a colleague on our webpage.
Deadline for submissions is Feb. 19, 2021.
If you have questions, please contact Daniel Lau at dlau@RNAO.ca or 1-800-268-7199 ext. 218.