Do you know non-nurses who want to join RNAO?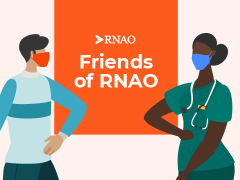 Many non-nurse colleagues have asked if they can join RNAO. The answer is yes!
Non-nurse colleagues can join RNAO under the membership category "a friend of RNAO."
For over a decade, friends of RNAO have received timely updates on our advocacy, media releases, best practice guidelines (BPGs), educational webinars and more. They also receive RNAO's monthly e-newsletter In the Loop and our award-winning online publication RNJ to be on top of the important issues in nursing, health and health care. Friends of RNAO can also access RNAO's affinity partners' group rate discounts in home and auto insurance, mortgage savings and more.
Friends of RNAO can also take advantage of the special $50+tax promotion now.
Encourage them to join today.