Action Alert: Do what must be done, premier!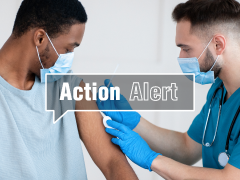 In the midst of a brutal third wave, the Ontario government has approved new legislation that will give employees three days of paid sick leave. However, RNAO says the program is insufficient and does not go far enough to help and protect workers.
In an interview with Rob Snow on City News Ottawa on April 29, RNAO CEO Doris Grinspun discussed how those in a precarious work will use those three days, but could still return to work sick. In addition, the Ontario Science Advisory Table noted that essential workers who use these sick days, will "out" themselves as being symptomatic and could be forced to stay home for two weeks.
Instead, Grinspun says the sick day program should be extended to 10 days and become a permanent program.

In addition to paid sick days, RNAO continues to call for the following to help curb the spread of COVID-19.
Close down all non-essential workplaces. Non-essential workers need to be financially supported through this crisis and essential workers need 10 days of paid sick leave.
Lock the province down, prohibit movement from one region to another.
Deploy nurses, physicians, pharmacists, dentists, paramedics, and every other health-care worker willing and able to vaccinate. Mobile units – including home care nurses – should be urgently deployed to essential workplaces and hot spot communities. And everyone 16 and up should be deemed eligible for vaccination.
To add your voice to our Action Alert, please sign today.

For more information about RNAO's position on paid sick days, please read the City News article with RNAO CEO Doris Grinspun quoted.