Distribute COVID-19 vaccines through community providers now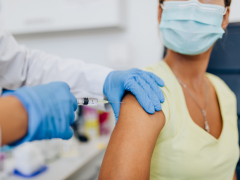 RNAO along with three of the largest home care providers in the province – SE Health, VON and Bayshore HealthCare – are calling on the government to get the COVID-19 vaccines into hands of community providers including nurses, physicians and pharmacists immediately. By making use of existing community care providers and their existing infrastructure, we can rapidly accelerate the rate of vaccination across the province.
Every year, thousands of nurses, physicians and pharmacists provide routine vaccinations through public health and established networks including primary care, pharmacies and home care. These community-based infrastructures and their health-care professionals using practiced and perfected distribution systems for vaccination – must be put to work immediately to deliver what is urgently needed – COVID-19 vaccinations.
The COVID-19 vaccination roll-out cannot overlook the opportunity for vaccine distribution in community care sectors that already serve vulnerable populations.
The COVID-19 vaccine, in concert with public health measures, represents our best opportunity to defeat COVID-19 and end its devastating impact. We urge the government to leverage opportunities already existing in community care for rapid vaccine roll-out to those at greatest risk, 24-hours-a-day, seven-days-a-week.
To learn more about our call and position, please read our joint media release. To learn more about how the COVID-19 vaccines are being distributed, please watch our webinar.