Did you miss this year's NP Symposium? Check out the photos and presentation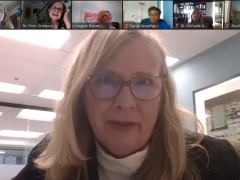 Those who didn't have a chance to attend this year's seventh-annual NP Knowledge Exchange Virtual Symposium have no need to fret. A Facebook gallery with highlights is now available online.
The event was co-chaired by RNAO CEO Doris Grinspun and NP Task Force Co-Chair and NP Interest Group Chair Sally Baerg with more than 200 in attendance.
The event, entitled Moving from Strength to Greater Strength: NPs in Ontario, Canada and around the Globe, provided attendees with a glimpse of RNAO's upcoming visionary report for NP roles now and into the future. Vision for Tomorrow was the focus of the opening panel featuring members of the NP Task Force, and highlighting its eight signature recommendations. Dr. Barbara Stilwell, executive director of Nursing Now also provided commentary on the global applicability of the report; as well as a keynote session on NPs Breaking the Glass Ceiling.
The report recommendations were a continuing focus throughout the event with attention to the breadth and impact of NP roles across all sectors, and specific NP role changes and scope expansion during COVID-19. The symposium drew NPs from all roles across the province and gave them an opportunity to discuss critical issues including the role of NPs in health system transformation and strategies and opportunities to advance full NP supply, utilization and scope expansion.
Featured speakers also included Helen Angus, Ontario deputy minister of health; Michelle Acorn, Ontario provincial chief nurse; Elissa Ladd, NP Task Force co-chair and leader of numerous ICN Networks and Dania Versailles, director of clinical services at the Canadian Mental Health Association Ottawa branch.
The symposium wrapped up with a lively session on advancing the image and impact of nurses through a vibrant public education campaign. To learn more about the symposium, please see the agenda.