Dedicated funding for infection prevention and control in long-term care homes needed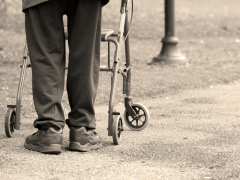 As the number of long-term care homes fighting outbreaks of the COVID-19 virus increases, RNAO is calling on the government to mandate and provide the necessary funding and nursing expertise to ensure homes are able to contain and prevent further infections.
In November, RNAO conducted an online survey of Ontario's 626 LTC homes to obtain information about infection prevention and control (IPAC) measures. The survey was open for five days. Of the 246 homes that responded to the survey, only 15 per cent have a staff member fully dedicated to IPAC. The remaining 85 per cent of homes reported their IPAC staff had other duties that occupied their time. Half of the homes surveyed did not have a formal position description for the IPAC lead. Thirty per cent indicated their IPAC staff had no formal training. And, close to 80 per cent of homes indicated they had to rely on a variety of external sources and services to bolster their IPAC program.
In the midst of an aggressive resurgence of the virus with outbreaks in more than 162 homes (as of Dec. 24, 2020) and more than 2,500 residents losing their lives to COVID-19 since the pandemic began, RNAO is urging the government to make staffing, clinical supports and best practices in infection prevention and control measures top priorities.
In a report released on Dec. 4, RNAO also outlines six recommendations the government must heed including: IPAC should be enforced as a mandatory role in long-term care with specific full-time equivalent (FTE) requirements depending on the size of the home; all IPAC roles must be supported by a standard position description, which clearly outlines the role, expectations, accountabilities and resources, and reflects recognized IPAC standards; and all staff in the IPAC lead role must be provided with time and funding to achieve formal and/or specialty education in IPAC.
To read our full list of recommendations and learn more, please read our media release.
On Dec. 4, Ontario's Long-Term Care COVID-19 Commission released its second set of recommendations with a focus on infection prevention and control readiness in long-term care homes. The commission recommends effective leadership and accountability; use of performance indicators to assess each home's readiness to prevent and manage COVID-19 outbreaks and focused inspections to assess compliance with measures known to reduce the impact of the virus. RNAO welcomes the recommendations and continues to meet with the commission and inform their work. On Nov. 20, we thanked the commissioners for issuing its first set of interim recommendations and look to the government to act now.