Deadline for RNAO's Recognition Awards quickly approaching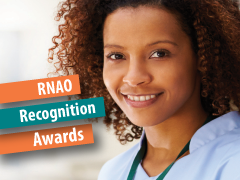 Celebrate the best in nursing this year by nominating* a colleague or your organization for one of RNAO's prestigious Recognition Awards.
The awards are divided into five categories: leadership, education/mentorship, group, undergraduate student, and member of the public. awards foster excellence in nursing, promote the profession to the public and recognize exceptional colleagues.
Fill out the nomination form for the award of your choice by Jan. 12, 2018
Winners will be recognized at the RNAO Annual General Meeting on April 20, 2018. If you have questions about the awards or nomination process, please contact Patti Hogg at 1-800-268-7199, ext. 220.
*You must be logged into your MyRNAO account to submit a nomination form.