COVID-19 Webinar Series: Register for next webinar on May 10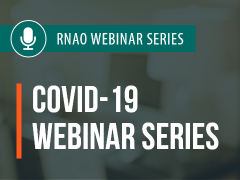 To kick off National Nursing Week, we're dedicating our COVID-19 webinar to your stories. Nurses, other health providers, members of the public, and the media are welcome to join our webinar on May 10 at 2 p.m. to pay tribute to the roles nurses have played during the pandemic. This webinar is focused on good news. You can share examples, words or stories of nurses' leadership: Their knowledge, compassion, bravery, dedication, collaboration and creativity as they have given it their all for patients this past year.

Together, we will create a virtual wall of appreciation that can be shared within your networks and on social media. Let's take time to collectively honour nursing and reenergize ourselves and our colleagues.
Please register online.
Please see our archived COVID-19 webinar from April 12, which provided an update on how the third wave is affecting nurses and Ontarians. Hear how RNAO, together with members and allies, are continuing to advocate for immediate actions to save lives and long-term actions to right wrongs and establish justice for all.