COVID-19 VIANurse Program will focus its efforts on outbreaks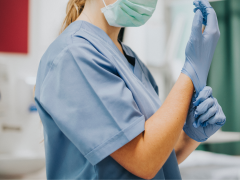 In response to the sudden spike in demand for nursing human resources across the health-care system when the pandemic began, RNAO launched the COVID-19 VIANurse Program on March 12, 2020. We enlisted nurses for telehealth services to reduce ER visits and helped public health units with case/contact tracing. We sent, starting in April, RNs, NPs and nursing students to health facilities with active outbreaks – especially nursing homes – to save lives.
VIANurse served the staffing needs of more than 313 organizations in different sectors, including 238 long-term care homes, 29 hospitals, 11 public health units, seven Indigenous health facilities, three hospices, three correctional centres and other sectors. And, many organizations have accessed VIANurse multiple times.
Now the efforts of Ontarians have helped stabilize the pandemic curve, at least for this first wave and the government is implementing plans to ease restrictions. Most health organizations in need of staffing have been served, many more than once, and staffing needs have generally stabilized across the province.
As we contemplate a new normal, RNAO is also redefining the COVID-19 VIANurse Program with a narrower scope for this new stage. As of Tuesday, May 19, 2020, RNAO's VIANurse Program will provide staffing assistance only to health facilities with active COVID-19 outbreaks. Health organizations – in all sectors – not facing a COVID-19 outbreak, but looking to fulfill their ongoing staffing needs in nursing and other health professions, are asked to advertise as always on RNAO's job board, RNCareers.ca.