COVID-19: RNAO statement on personal protective equipment and ventilators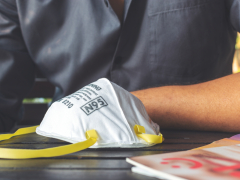 As health organizations, across all sectors, are reporting shortages of personal protective equipment (PPE), the evidence of asymptomatic infection of COVID-19 necessitates that all health-care workers facing patients, residents and clients must wear a surgical mask at all times.
RNAO is calling on the federal and provincial governments to immediately apply their powers to:
1. Ensure health organizations – in all sectors – have ample supply of PPE to protect their health professionals and other workers.
2. Ensure health organizations with patients in need of ventilators have the necessary quantities – assuming worst-case scenarios for the pandemic – so patient lives are not lost because the proper equipment is not available.

On March 31, Prime Minister Justin Trudeau announced his government has invested an additional $2 billion to purchase more PPE for frontline workers and reached procurement agreements with several companies to make masks, ventilators and surgical supplies. On April 1, the Ontario government also launched a new $50 million Ontario Together Fund to help businesses provide innovative solutions or retool their operations in order to manufacture essential medical supplies and equipment, including gowns, coveralls, face shields, testing equipment and ventilators. In response, RNAO welcomes the announcements, however, frontline workers in Ontario urgently need nine million surgical masks per week as well as other essential equipment. It is important the federal and provincial governments act now. Learn more about our response in a CBC Power & Politics interview with RNAO CEO Doris Grinspun.
Together, we can and must win. Our success will be measured by how well we come together as a people, how we protect our health-care workers and how we save lives.
For more information, please read our full statement released on March 25.