COVID-19 nursing workforce survey: Have your say - Deadline extended: July 31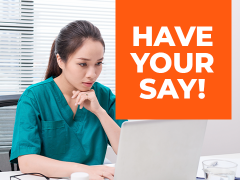 RNAO wants to hear from you. This international COVID-19 nursing workforce survey will help us all gain a better understanding of the effects of the COVID-19 pandemic on Canada's nursing workforce and how it compares to other countries in the world. What's the same? What's unique? What's the path forward?
The survey is also a chance to tell your story. The survey results will compare what happened in Ontario and other provinces with other regions around the world. We know that nurses have experienced the pandemic in different ways. We encourage you to make your voice heard.
We urge you to fill out the survey today.