COVID-19 nursing workforce survey: Have your say - Deadline extended: July 31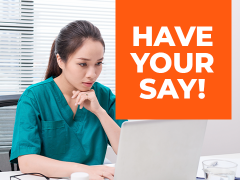 COVID-19 has had a profound impact on the whole community including nurses and other health professionals. We thank members who responded to the survey we issued in January and the results can be found online.
The results put a very public lens on the work and wellbeing of nurses in Ontario. We are seeking your help to carry that further and get a Canada-wide pulse of how nurses are feeling/coping. Governments and nursing employers are watching carefully.
To gain a better understanding of the effects that the COVID-19 pandemic has had on the Canadian nursing workforce, RNAO has joined with Australia's Rosemary Bryant AO Research Centre at the University of South Australia to launch a more detailed Canadian COVID-19 nursing workforce survey. *Similar surveys have gone out to nurses and midwives around the world.
Your participation in the survey will help provide a snapshot of the current workplace culture and climate of nursing in Canada. It will be an opportunity to tell your story in detail. The resulting report will compare what happened in your province to other provinces and to other regions around the world. We know that nurses have experienced the pandemic in very different ways. We must learn all the lessons – everyone's story counts. The stories are compelling and decision-makers know that they must heed the results of the survey so we encourage you to make your voice heard.
For further information and to access the 20-minute survey, please go online. Deadline to fill out the survey is July 31.