Continuing the Conversation: An Open Forum for Nurses: Register by May 12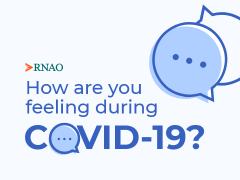 RNAO recognizes that these past 15 months of the pandemic have been grueling for nurses. Our Work and Wellbeing Survey results showed that 13 per cent of registered nurses (RN) and nurse practitioners (NP) aged 26-35 are likely to leave the profession once the pandemic is over. We cannot let this happen.Join us on Wednesday, May 12 at 3 p.m. for a webinar dedicated to initiatives to be undertaken to retain RNs and NPs in the profession. We are inviting politicians to join the conversation and hear directly from nurses about what they need to thrive in the profession.

Register online.

This is the eighth webinar of RNAO's biweekly open forum series for nurses to talk openly about how they are coping during the pandemic. During its previous open forum on April 28, RNAO took time to discuss the National Day of Mourning and the many lives that have been lost. The day is a time to show support and commitment for safe workplaces as well as reflect and acknowledge the sacrifices of all nurses, other health-care providers and other essential and non-essential workers who have died or become sick while working during the pandemic. Please see our statement online. The webinar also focused on the new regulations from the College of Nurses of Ontario. For more information, please read Doris's COVID-19 Blog entry from April 24.