Continuing the Conversation: An Open Forum for Nurses: Register by March 3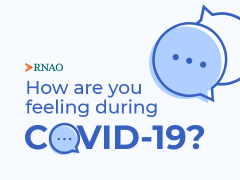 RNAO continues to be a source of support for nurses across Ontario – especially those working on the frontlines of COVID-19 – by hosting a bi-weekly open forum for nurses to talk openly about how they are coping during the pandemic.
During its second forum on Feb. 17, RNAO set up breakout sessions where participants were asked to discuss the following themes: dealing with multiple losses, learning to let go (time out from COVID), taking care of yourself and organizational support for well-being.
Participants shared their thoughts and experiences related to the topic with several noting the emotional toll COVID-19 takes on them every day and how they are incorporating self-care strategies to manage their physical and emotional stress and fatigue.
For more information, please see Doris's COVID-19 Blog entry from Feb. 20. To learn more about psychosocial support during COVID-19, please go to our webpage.
Join us for our next open forum on March 3. Those who are interested can visit myRNAO to register.