Continuing the Conversation: An Open Forum for Nurses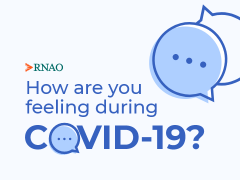 RNAO is aware nurses across Ontario – especially those working on the front lines of COVID-19 – are experiencing tremendous levels of physical and emotional stress and burnout. We know this can affect your mental health and wellbeing at this challenging time and that you may have less time to devote to your own self care.
Continuing the Conversation: An Open Forum for Nurses is a biweekly forum dedicated to open discussions and breakout sessions for participants to speak about themes identified in previous forums such as dealing with multiple losses, taking care of yourself and burnout.
All registered nurses, nurse practitioners, registered practical nurses and nursing students – in all roles and sectors – are invited to participate.
Please stay tuned for details on our next webinar.
Learn more about our past webinars online including our latest on May 26 that continued the conversation of nurse wellness in the province and beyond our borders. RNAO provided an overview of the three nursing surveys that serve as the foundation of our nurse wellness program. Complete the cross-Canada COVID-19 Nursing Workforce Survey online.
Visit our COVID-19 Portal for additional resources and information on psychosocial support.