Continuing the conversation: Mobilizing collective action for long-term care reform in Canada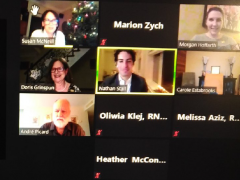 Following a groundbreaking cross country meeting on Nov. 9, RNAO continued the conversation on Dec. 14 to talk more about how we can mobilize collection action for long-term care reform in Canada.
Moderated by Globe and Mail columnist André Picard, the author of Neglected No More: The Urgent Need to Improve the Lives of Canada's Elders in the Wake of a Pandemic, the event had several panelists speak about the COVID-19 situation in long-term care and securing a brighter future for all who call LTC their home.
The webinar included the following panelists: Nathan Stall, staff geriatrician at Sinai Health System; Carole Estabrooks, nursing professor at the University of Alberta; Morgan Hoffarth, RNAO president; Wendy Francis, Family Councils Collaborative Alliance and Doris Grinspun, RNAO CEO.
During the event, the panelists spoke about the high number of COVID-19 outbreaks in LTC homes across Canada and the need for a long-term vision for LTC. The push for four worked hours of direct nursing and personal care per resident, per day is more important than ever and panelists say we must press for action now. To add your voice to the cause, join the conversation on Twitter with the hasthag: #4hours4seniors.

To watch the archived webinar, please go online.