Complimentary membership available for nursing news grads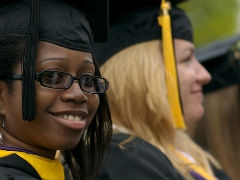 Do you know a nursing new grad? RNAO is offering new graduates of undergraduate nursing programs (includes bridging and accelerated bachelor's degree programs) complimentary membership thanks to the generosity of HUB International, RNAO's home and auto insurance partner.
If you have friends who are new grads or have new grads in your workplace, invite them to sign up today at myRNAO.ca/join and choose "New Graduate" from the drop-down list of categories.
When new graduates join, they join more than 42,000 of their RN, NP, and nursing student colleagues in supporting RNAO's advocacy and access valuable benefits such as professional liability protection (PLP), discounts on nursing workshops and opportunities to network with nurses across Ontario.