Champions training with East Toronto Health Partners BPSO OHT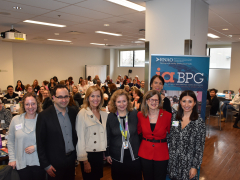 RNAO believes that true health system transformation that will make a difference for Ontarians requires two things: evidence-based practice and robust staff engagement. This was a central theme during RNAO's second champions training workshop for teams participating in the East Toronto Health Partners BPSO OHT.
The event was held Feb. 25-26 at Michael Garron Hospital with more than 100 participants from 17 organizations of the East Toronto Health Partners OHT. During the two days, frontline interdisciplinary staff, formal leaders and patient and family representatives – representing all sectors and services – shared their passion and commitment to person-and family-centred care. They learned strategies for making sustainable improvements across the BPSO OHT and collaborated to envision a future state for person centredness across the full continuum of care.
During the event, the Honorable Christine Elliott joined the workshop to demonstrate her support for the initiative and to congratulate the champions on their support for health system transformation. See her tweet online thanking RNAO for working with OHTs to succeed.
So far, four OHTs have joined the BPSO OHT program, with several other OHTs planning to join. To learn more about the BPSO OHT program, see our BPSO webpage or attend the monthly OHT webinar series: Health System Transformation: Making Interprofessional Teams Shine. Register online for our webinar on March 4 or listen to archived webinars.