Celebrate the Year of the Nurse with RNAO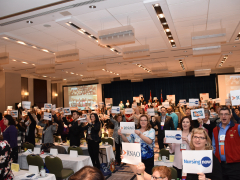 Help us celebrate 2020 as the Year of the Nurse and honour the 200th anniversary of Florence Nightingale's birthday. Let us applaud the vital work that nurses do, highlight the challenges nurses' face and advocate for increased investments in nursing.
RNAO will be marking this theme throughout the year in a number of planned events and initiatives:
Nursing Week – May 11-17, 2020
95th Annual General Meeting – June 11-13, 2020
Nursing Now webinars – ongoing
We encourage members to get involved this year by inserting this theme in their events. Members can also participate in a photo contest organized by Nursing Now, the International Council of Nurses (ICN) and Jhpiego, an international non-profit health organization.

The Year of the Nurse was designated by the World Health Organization.