Celebrate Black History Month this February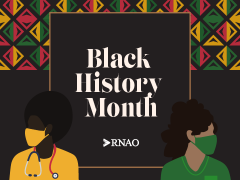 RNAO is proud to be celebrating Black History Month throughout February. It's a time to reflect and recognize the valuable contributions Black Canadians have made to this country as well as the valuable contributions Black nurses have made to the profession.
Black History Month provides an avenue to share knowledge and achievements of Black nurses, scientists, academics, civil rights activists and many more. It is also a time to reflect on those who have experienced anti-Black racism and violence and the injustice and need for change. Please see RNAO's statement on the death of George Floyd and all those who have succumbed to anti-Black racism and violence.
RNAO continues to invite members to join us for our monthly webinar series Let's Talk about Anti-Black Racism and Discrimination in Nursing and share your thoughts with our Black Nurses Task Force. These webinars allow for meaningful conversations on how to tackle anti-Black racism and discrimination within the nursing profession that will inform the work of the task force.

RNAO has created a dedicated webpage for Black History Month where members can see messages from RNAO's Black Nurses Task Force co-chairs, the latest on our webinar series, RNAO's history and facts, and RNJ articles related to Black History Month and diversity.