Caregivers allowed to visit long-term care homes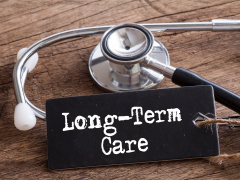 Caregivers are essential visitors and important partners in care who provide direct care to their loved ones in long-term care.
That's why RNAO is supporting the Ministry of Long Term Care's announcement on Sept. 2 to ensure caregivers are allowed to visit LTC homes at any time, including during an outbreak, subject to direction from the local public health unit. This includes family members or friends.
RNAO has been advocating for family reunification in long-term care (LTC) homes and measures outlined in RNAO's five step plan issued to the Ontario government in July were adopted. The plan urges that each resident has more than one essential family care partner and access to personal protective equipment (PPE).
RNAO continues to look to the government to implement RNAO's Nursing Home Basic Care Guarantee, which would ensure the proper skill mix for LTC staff for each resident per day: a minimum of 0.8 hours (48 minutes) of RN care per resident per day; 1 hour (60 minutes) of RPN care and 2.2 hours of PSW care (132 minutes).