Building the NP role in Ontario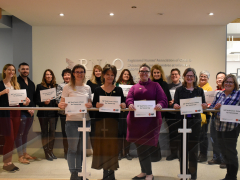 To build the next phase of growth – both in numbers and role – of NPs, RNAO launched the NP Task Force at our April 12, 2019 AGM. Members of the task force – NPs across the province – have met several times virtually since then and made amazing progress.
The task force met in-person on Feb. 6 and 7 to build its recommentations. You can expect to see a final report in the fall.

Meanwhile, we continue our work with insurance companies around NP claims declinations (when a patient's claim is declined because it is the NP who provided the service/prescription). The task force's next meeting will take place on May 8, 2020.
At the NP Institute on April 28-30, NPs will have an opportunity to provide feedback on the work being done. If you have not yet registered for the institute, register online today.