Bringing income security to low-income Ontarians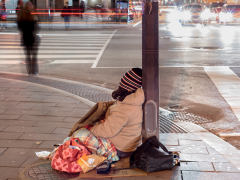 In an effort to ensure no one is left behind, RNAO joined more than 100 organizations calling on the Minister of Children, Community and Social Services, Todd Smith, to implement changes that will help low-income Ontarians.
While federal and provincial governments have taken positive steps to provide additional income support during the COVID-19 pandemic, many low-income Ontarians are still falling through the cracks.
That's why we're asking the province to implement the following:
Raise social assistance rates – these rates are far below the poverty line and are less than the cost of food and housing alone. In the past year, rates were not increased to keep up with inflation and are insufficient for coping with additional needs during a pandemic
Exempt federal benefits from clawback – currently, any income received from sources other than employment is generally deducted dollar-for-dollar from social assistance benefits. This prevents low-income Ontarians from fully benefitting from Employment Insurance or the Canada Emergency Response Benefit announced by the federal government
For more information about our asks, please read the joint letter to Minister Todd Smith.