BPSO OHTs participate in a meet and greet inspiring event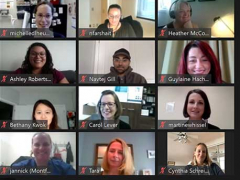 On Sept. 10, RNAO hosted our first ever meet & greet event for the inaugural cohort of Ontario Health Teams participating in the Best Practice Spotlight Organization (BPSO OHT) program: North Western Toronto, East Toronto Health Partners, Southlake Community, and Ottawa East Health Team.
During this virtual event, champion teams, including interdisciplinary staff and patient and family representatives, shared their collective work in implementing the foundational guideline, Person-and Family-Centred Care (PFCC).
We heard lived experiences of what it means to be a family member receiving care that is person-and family-centred and how when providers use this approach, it is more effective and gratifying. The four BPSO OHTs talked with enthusiasm about their collective identity and their common values and beliefs. They also shared their robust plans for education and evaluation across the integrated system of care, and others talked about how PFCC was a pillar to their pandemic response.
The meet & greet was an excellent opportunity for collaboration and knowledge exchange. It inspired new ideas, fostered networking across sectors and OHTs, and reinforced that PFCC is a pillar of high quality care — with or without COVID-19.
The BPSO OHT model is part of the global best practices program. It is designed to support integrated systems of care with the goal of improving outcomes through evidence-based practice and robust staff engagement. For more information, or to get involved, write to implementation science manager Susan McNeill at smcneill@RNAO.ca.