BPG on supervised injection services coming soon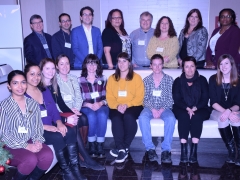 RNAO is excited to announce the upcoming release of a new best practice guideline (BPG) entitled Implementing Supervised Injection Services.
The BPG supports important decision-making around the most effective approaches for supervised injection services (SIS) delivery to people who inject drugs. Promoting health equity is heavily emphasized through harm reduction, culturally safe, trauma-informed practices and policies in SIS.
To mark this significant milestone, a press conference will be held in Toronto at South Riverdale Community Health Centre on Feb. 28 where representatives from the guideline expert panel and RNAO will be speaking about the importance of the BPG and the impact of SIS on people who require this life-saving harm reduction service.
Stay tuned for more details.