Be part of the Nursing Now campaign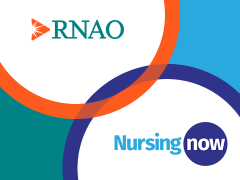 RNAO is part of the global campaign Nursing Now with the World Health Organization and the International Council of Nurses (ICN) to improve health by raising the status of nursing worldwide.
The Nursing Now campaign advocates that nurses share best practices, assume positions of leadership, grow their voice to shape health policy, conduct research that shows where they can have the most impact and call upon health providers and government to invest more to grow the nursing workforce.
RNAO has hosted two Nursing Now webinars (English and Spanish) focused on evidence-based practice through RNAO's best practice guidelines and Best Practice Spotlight Organizations and as mentioned is celebrating nurses through the Nursing Now Ontario Awards. RNAO is also entering the #NursingInFocus photo contest, organized by Nursing Now, ICN and Jhpiego. The contest will feature photos on social media with hashtags such as #NurseAtWork, #FutureNurse and #WhyINurse. Follow us on Twitter to see our entries.
As part of the Nursing Now campaign, WHO also designated 2020 as the Year of the Nurse.