Attention RNAO NPs: NP Insider webinar on May 6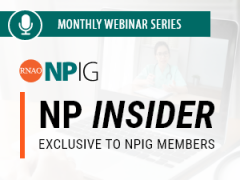 The Nurse Practitioner Interest Group (NPIG), RNAO's interest group for NPs, is pleased to invite you to its May NP Insider webinar. On May 6 from 4:30-5:30 p.m. ET, participants will learn about RNAO's professional liability protection and Legal Assistance Program for NPs including legal issues in private practice and prescribing for friends/family during the pandemic.
Registration details to come in NPIG email communications.
At the March NP Insider webinar, Tara Leach, primary health care nurse practitioner, spoke about the role of NPs in independent practice and her experience with clients who do not have the means to pay for service. The presentation by Leach also touched upon her own reflections/lessons learned from the past three years as an NP who founded the H.E.A.L.T.H (Health Care, Education, Advocacy, Linkage, for Trauma Informed Healing) clinic, the first primary care clinic in Ontario committed to providing patient-centred and trauma-informed primary health care to people aged 13 years and older who are at risk for or who have experienced coercion, exploitation, labour and/or sex trafficking.
Please stay tuned for future NP Insider webinars, and register via the link provided in NPIG email communications. You must be a member of NPIG to attend. To learn more about the NP Insider webinars, please contact Nursing Policy Analyst Catherine Jewell at cjewell@RNAO.ca. To become a member of NPIG, please contact a member representative at (416) 599-1925 or toll free 1-800-268-7199.