Attention RNAO NPs: NP Insider webinar on May 6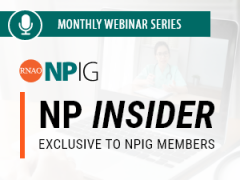 The Nurse Practitioner Interest Group (NPIG), RNAO's interest group for NPs, is pleased to invite you to its May NP Insider webinar. On May 6 from 4:30-5:30 p.m. ET, participants will learn about RNAO's professional liability protection and Legal Assistance Program for NPs including legal issues in private practice and prescribing for friends/family during the pandemic.
Registration details to come in NPIG email communications.
Please stay tuned for future NP Insider webinars, and register via the link provided in NPIG email communications. You must be a member of NPIG to attend. To become a member of NPIG, please contact a member representative at (416) 599-1925 or toll free 1-800-268-7199.