Attention nursing students: Host a membership drive at your school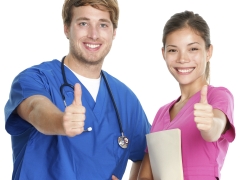 Thank you to all the undergraduate nursing students who have chosen to be part of RNAO. Currently, 7,500 undergrads have been enjoying the student benefits RNAO membership offers.
Now, let's get the rest of your student colleagues on board.
RNAO student membership complements a formal nursing education by providing valuable information and resources, and offering exciting networking opportunities with RNs, NPs, and other nursing students from across Ontario.
To hold a membership drive at your school in early 2018, contact David McChesney by email or call him at 1-800-268-7199, ext. 201. We have the materials and knowledge to make your student membership drive a success.