Are you thinking of running for public office? Let us know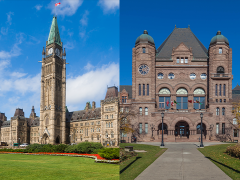 RNAO encourages its members to be politically active, especially ahead of the provincial election on June 2. Ontario needs RNs, NPs and nursing students to be involved in policy development at all stages, including elected office. Nurses help shape social policies that reflect the knowledge, expertise and experience of RNAO members.
RNAO is delighted to support members running for elections in any party and has a long-standing policy to support these efforts. RNAO takes an issue-by-issue approach to advocacy activities and does not endorse any one political party. Nurses contribute tremendously to the province's most pressing public policy issues, including health, education, environment and the social determinants of health. Nurses can identify and address the interconnectivity between health policy and people's lives.
Any RNAO member* running for elected public office can request support from other RNAO members living in their region. It is up to the individual member to choose whether to support the RNAO member candidate.
If you're running for public office and would like to learn more, please contact Ann-Marie Morris, nursing and health policy coordinator, at amorris@RNAO.ca.
RNAO also encourages members running for election to read its 2022 provincial election platform: Ontario's nursing crisis: Your health, your health system.
* RNAO engagement in distributing information about any members, exclusive of Friends of Nursing, does not indicate endorsement.