Are you protected?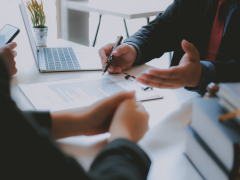 Civil lawsuits and criminal investigations are just a few examples of issues that any practising nurse can be faced with. Lawsuits can also come up after an RN or NP has retired from practice.
Not to worry. We've got you covered. With $10 million in coverage, our professional liability protection (PLP) provides you with more than the CNO's required amount and is automatically included in your RNAO membership. Regardless of when a lawsuit is brought forth or even if you have retired or discontinued your RNAO membership, you are covered as long as you were a member at the time of the incident.
Learn more about what is covered by PLP.
Worried about CNO complaints, subpoenas and wrongful dismissal? Consider adding the Legal Assistance Program (LAP) to your membership for an additional $64.57. LAP is a well-established and well-funded program that has helped thousands of members since 1986. If you'd like to add LAP to your membership, please give us a call at 1-800-268-7199.
Learn more about the benefits of LAP.