Are you interested in speaking to the media?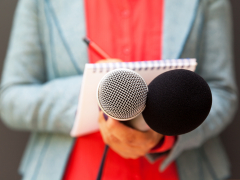 Would you like to be interviewed for print, radio, TV or podcasts?
RNAO often receives media requests for nurses working in different sectors and areas of the province. Requests we have received include public health nurses working in schools, the challenges of nurses face working in hospital ICUs and the burnout and stress many frontline nurses are experiencing.
In response, RNAO has created a media directory for members to consider submitting their name. As part of the directory, you will be given opportunities as they come to RNAO to speak to the media about your sector/specialty or your experiences as a nurse.
If interested, please fill out this survey with your information and details about your areas of expertise. An RNAO staff member will be in touch.
RNAO will also help prepare members for these interviews with tips, example questions, mock interviews and advice, if needed. As part of the directory, you will be welcome to RNAO's media training webinars as well.
Speaking to the media provides you with the exposure and skills that can help you in your professional career and help raise the profile of issues you are advocating for. During RNAO's AGM 2020 keynote presentation, Dr. Barbara Stilwell, executive director for Nursing Now, Dr. Mary K. Wakefield, distinguished professor and former acting deputy secretary for the U.S. Department of Health and Human Services under President Obama, and Dr. Doris Grinspun, RNAO's CEO, spoke about the importance of nurses using our voices – individually and collectively -- to speak out and improve health for all. Please see the archived webinar online.

If you would like to learn more, please email Communications Officer/Writer Victoria Alarcon at valarcon@RNAO.ca.