Apply now to become RNAO's new IABPG director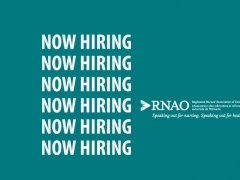 Are you passionate about nursing and RNAO's best practice guidelines? Do you enjoy working with nurses, and other health professionals?
RNAO is seeking an outstanding professional to join our team as director of the International Affairs and Best Practice Guidelines Centre.
Working with nurses, researchers, data analysts, and other health professionals, you will advance the world-renowned BPG program to the next phase of influence and impact. As part of the senior management team, your ability to identify issues and articulate ideas and arguments will contribute to the formulation of association strategies that are congruent with our mission and ends.
The successful candidate will be a RN with a PhD in a relevant field. Research expertise is required for this role. Please submit your cover letter and resume by Oct. 12, 2018 to humanresources@RNAO.ca
For more information, please read the job advertisement on Jobs at RNAO.