Annual Nurse Executive Leadership Academy ends in success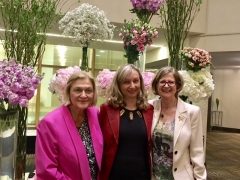 About 60 nursing leaders from all health-care sectors attended RNAO's 6th Annual Nurse Executive Leadership Academy (NELA) to discuss important nursing, health and health-care issues.
The event, which took place at Niagara-on-the-Lake from June 20 to June 23, gave attendees the opportunity to engage with health system leaders, senior government officials, and other leading edge thinkers about health system transformation, expanded scope of RNs and NPs, medical assistance in dying, mental health and addiction, and patient centredness.
Participants also had the opportunity to hear from notable speakers such as Dr. Bob Bell, deputy minister of health and long-term care; Denise Cole, assistant deputy minister of health workforce planning and regulatory affairs with the Ministry of Health; and Christine Elliott, Ontario's first patient ombudsman.
This interactive learning experience received positive feedback and encouraged attendees to build on their professional and personal networks, engage in discussion on current issues in health care and collaborate across sectors to co-create solutions together.
As always, the Nurse Executive Leadership Academy highlights and reaffirms the critical role of nurse executives as leaders to drive health system transformation, improve quality and make evidence-informed decisions.