Angela Cooper Brathwaite's Statement on Black History Month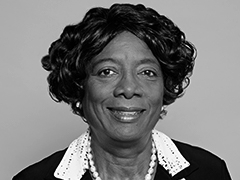 We are proud to be celebrating Black History Month throughout February.
RNAO President Angela Cooper Brathwaite shares her thoughts on Black History Month:
"Black History Month provides the opportunity to network with peers, celebrate and recognize the valuable contributions of Black People in Canada and serves to bolster the self-esteem of Black Youth who lack role models.
It also showcases past accomplishments and contributions of Black trail blazers, political advocates, scientists, entrepreneurs and inventors, which may not be documented in history books. For example, Richard Spikes invented the automatic gear shift, Joseph Gambol invented the super charge system for internal combustion engines and Garrett A. Morgan invented the traffic signals. They were Black men.
Black History Month also provides an avenue to share knowledge and contributions of Black scientist, academics, civil rights activists with the broader Canadian public. For example, if you ask the average Canadian who is Ralph Bunche, Viola Desmond, Elijah McCoy or Bernice Redman; how many of them would know about these people? For example, Ralph Bunche, an American scientist, academic and diplomat was the first Black man to be awarded the Peace Prize in 1950. He received it for having arranged a cease-fire between Israelis and Arabs during the war which followed the creation of the state of Israel in1948. Elijah McCoy was a Canadian-American who patented his first invention of an automatic lubrication for steam engines. Viola Desmond was a Canadian civil rights activist and entrepreneur who challenged segregation in Nova Scotia in the 1940s. Today the Canadian ten dollar bill carries her photograph. Bernice Redmon, a native of Toronto was the first Black Nurse allowed to practice in Canada, where she obtained employment with the Nova Scotia Department of Health in Sydney in 1945."