Image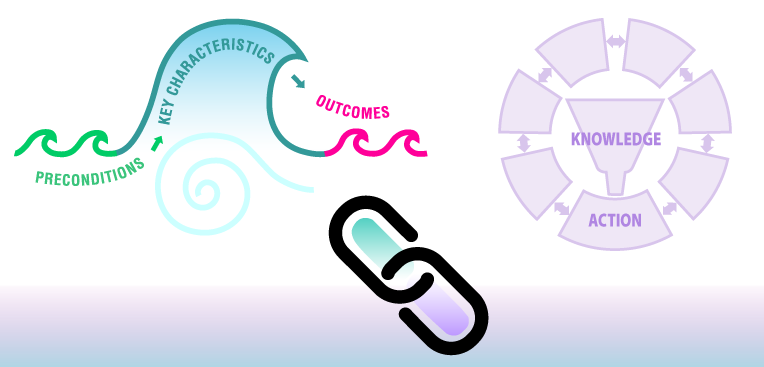 Linking this key characteristic to other elements of the Social Movement Action Framework:
Each of the elements of the Social Movement Action (SMA) Framework is dynamic and interrelated. For example, the core leadership structure serves as a group of committed team members to co-design the social movement with the active engagement of change agents, champions and others. The core team, as individuals and collectively, widely promotes and disseminates the shared concern or strongly desired change and the urgent need for action. Their roles include framing or positioning the issue, relationship building, engaging others through intrinsic motivation, and actively supporting the emerging leaders within the core team and with others. They strategically co-design individual and collective action activities and proudly embrace and adopt the collective identity of the social movement.     
Linking this key characteristic to the action cycle phases of the Knowledge-to-Action Framework:
You and your core leadership structure's capacity in social movement actions may be enhanced and/or accelerated by the addition of some of the action cycle phases of the Knowledge-to-Action (KTA) Framework, as the two frameworks are complementary. In addition to the two linking examples described earlier in this section, there can be many other points of connection between the two frameworks. Below are two more examples for your consideration:   
Adapt knowledge to local context: Core leadership structures function as a means of securing and deploying resources. Assessing the local context, stakeholders and resources can help you better leverage these three elements to ensure that you and your change team have sufficient resources to execute your plans for the social movement.
Sustain knowledge use: To sustain the change, leaders commit to building networks and capacity in other change agents so that new leaders can be borne within the core structures. The KTA action cycle phase on sustaining knowledge use can help you and your change team continue the core leadership structures of your social movement and give you guidance on how to enhance emerging leaders.
For more discussion about the dynamic links between the elements of the SMA Framework to one another and to the KTA Framework, see the section 'Accelerate your success with the Leading Change Toolkit™'.