Anti-Poverty Rally
Soumis par admin le oct 18, 2006, 12:00am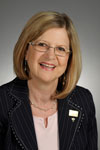 Speaking Notes:

Doris Grinspun, Executive Director, RNAO
Anti-Poverty Rally
Queen's Park

Tuesday October 17, 2006

Good Morning:

My name is Doris Grinspun and I am the executive director of the Registered Nurses' Association of Ontario.

As Myriam so powerfully illustrated, poverty has a devastating impact on individuals, families and our community.

As nurses we are keenly aware and gravely concerned about poverty. Through our day to day work we see, through people's lives, the critical link between poverty and the ability to sustain or attain good health. Nurses know the clear connection between social determinants of health and health outcomes.

We know that those who have a stable and good paying job, a decent and affordable roof over their heads, adequate food for them and for their loved ones, and a support network, can expect to enjoy better heath and well-being. We also witness the suffering and ill-health of those who lack these basic conditions and thus can not lead a healthy life.

RNAO sincerely appreciates the investments that the government has made in the nursing profession and in health-care in general. However, investments in the health-care system alone will not do enough to improve the health of Ontarians. We need investments to help people when they are sick and we also need substantive investments to keep people well, and to keep them away from the health-care system.

For a decade, inadequate social assistance rates have pushed hundreds of thousands into poverty. As nurses, we have seen the impact of these policies in the eyes of far too many Ontarians -- eyes that beg for a better life and silently ask why? Street nurses and others, see first hand how poverty robs people of their dignity and wears away at their health. We all can see, if we choose to see, how when we as a society fail our most vulnerable -- we are indeed contributing to their illness and early death.

On behalf of thousands of nurses and many others, I can't leave this podium, without urging our government to reverse the cuts to the Special Diet

Allowance Program which has provided funds to people living on social assistance who have dietary needs related to medical problems.

This program, which has existed since 1998 was severely cut back in November 2005. Nurses, physicians, nutritionists, and public health experts remain deeply concerned that some of the most vulnerable and weaker individuals in our society are thrown deeper into poverty and deprivation. Under the new rules, many people are no longer eligible for the special diet supplement and the ones that are eligible often receive only a small amount of help. For example, a person with heart or liver disease only receives $10 per month.

The McGuinty Government is a government that promised to close the gap between the "haves" and the "have nots". Premier McGuinty, having food at the table is the most basic of human needs. We urge you to hear through us, the voices of those who far too often are not heard. We urge you to reverse

the cuts to the special diet program and we also urge you to increase, in a substantive way, social assistance rates.

With less than a year to go before the next provincial election, today's rally is a call for action. We want all political parties in this province to commit, in words and in deeds, to make poverty in Ontario history. In a province as rich as ours, no one should go hungry. No one should sleep in the streets because they lack a decent and affordable roof. These are the basics of a decent life. This is not just good social policy, this is essential for good health policy.

Thank-you!