Why Your Health Matters
Soumis par nhalper le Jan 28, 2013, 4:58pm
People consistently rank health care as a top priority. Nurses know this.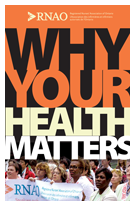 We want to kick start a conversation about its future by issuing a challenge to all political parties. The platform, Why Your Health Matters is a call to action to leaders of the political parties to collaborate and focus their work on matters that will improve the health of people and build an even stronger Ontario.
Why Your Health Matters outlines recommendations in key areas:
Poverty: Supporting Background
increasing the minimum wage
improving access to affordable housing
transforming the social assistance system to reflect the actual cost of living
Environment: Supporting Background
closing immediately all remaining coal plants
ensuring people have a right to know about the existence of toxics in their homes, workplaces and consumer products
Nursing care: Supporting Background
hiring 9,000 additional RNs by 2015
ensuring 70 per cent of all nurses work full-time so patients have continuity of care and care-giver
securing fair wages for nurses working in all sectors of health care
maximizing and expanding the role of RNs to deliver a broader range of care, such as ordering lab tests and prescribing medications
ensuring all existing nurse practitioner-led clinics are funded to operate to full capacity
opening new nurse practitioner-led clinics where patient need exists
improving navigation across the health system by partnering with patients to co-ordinate their care through primary care in community health centres, nurse practitioner-led clinics, and family health teams
Medicare: Supporting Background
expanding our publicly funded, not-for-profit system to include home care
rejecting efforts to commercialize or privatize health-care delivery
focusing on well-researched and demonstrated policies and evidence-based clinical practices to optimize the health of people, families, communities, and our health system
How do we pay for this? Supporting Background
Nurses know Ontario's economy is still recovering, and that it's affected by global events. The province also needs to restore its fiscal capacity.
The next provincial government should:
make sure people pay their fair share of taxes, because tax cuts for the wealthy and cutting spending for social programs
hurt our economy
impose green taxes to help pay for the damage polluters cause
RNAO believes we need to take a hard look at what we do right, and the issues we need to fix in our health-care system.
Our system needs to better reflect the needs of the patient.
Nurses believe there must be a greater emphasis on health promotion and disease prevention. We also want people to be active participants in their care.
This platform highlights key changes that are necessary to ensure that every person in Ontario gets faster access to quality primary care and home care services for those who need it.
How can you get involved?
Give this platform life – pick it up, take it on the road.
Every year Ontario nursing leaders with RNAO urge MPPs from all political parties to adopt recommendations that strengthen health and nursing services across the province. This year the government prorogued parliament, so RNAO is taking its 14th annual Queen's Park event "On the Road".
In February and March, 2013 RNAO will be organizing 90+ meetings between nursing leaders and MPPs and each meeting will be held at the MPP's constituency office. Nurses come prepared for these meetings with a comprehensive package from RNAO that outline RNAO's key recommendations for strengthen nursing services and improving the health of Ontarians.
Go to the official Queen's Park on the Road website
Related:
Background Information - Complete Package
Why Your Health Matters Leaflet