Social Determinants of Health
What are the social determinants of health? How might they be applied to our everyday lived experiences?
Access to conditions that permit health is shaped by the circumstances in which people are born, grow up, live, work and age, and an array of political, economic, social, cultural and environmental conditions and forces.
Read RNAO's brochure on Social Determinants of Health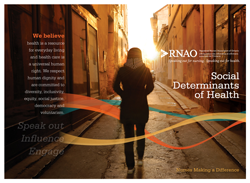 This brochure includes the story of Teresa who struggles to cope with the trauma she has experienced. Want to learn more about possible interventions that you could take as a nurse or health-care provider to optimize Teresa's health? Get more information on possible interventions for Teresa.
Would you like to learn more about of the rationale behind RNAO's work on social determinants of health including illustrations of RNAO's action on structural determinants of health inequities? Read Fairer Societies for Better Health Equity.
Poverty is not random.
Health inequities are a direct reflection of social inequalities, which means that chances for better health and a longer life increase along the socio-economic gradient. Creating Vibrant Communities recommends public policies that improve the conditions of daily life, tackle the inequitable distribution of power and resources, take action on the social determinants of health and, ultimately, improve health outcomes.
Creating Vibrant Communities is guided by the vision of a poverty-free province where every person has the opportunity to live in dignity and achieve his or her full potential.
Those most vulnerable to persistent low income include single parents (most frequently mothers), individuals aged 45-64 years and living alone, recent immigrants, persons with a work-limiting disability, Aboriginal people, individuals who drop out of high school, women, and racialized group members.
Overwhelming evidence from academic research and RNs' own nursing practice shows that differences in social and economic status are directly linked to inequitable health outcomes. As is most evident in a recession, as the income gap between rich and poor widens the health disparities also increase. Those with the lowest income die earlier and have significantly higher incidences of a variety of chronic diseases, conditions and disorders.
Campaign Partners, Coalitions, and External Resources: