You're invited: Best Practice Champions Virtual Workshops happening in October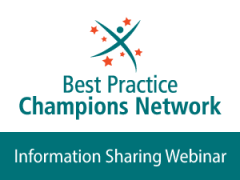 The Best Practice Champions Network team is hosting its two-part Best Practice Champions Virtual Workshop on Oct. 12 and Oct. 19. Participants will be introduced to best practice guidelines and will learn how to successfully implement them using RNAO's resources.
This free, online educational opportunity consists of a brief pre-recorded introductory video and two live virtual sessions to be completed in sequential order for you to become a Best Practice Champion and receive your champion's certificate.
Register for Session 1 and Session 2 separately by visiting the following event pages:
Session 1: Oct 12, 1 – 4 p.m. ET
Session 2: Oct. 19, 1 – 4 p.m. ET
For more information about the Best Practice Champions Virtual Workshop, visit RNAO's website.