Tell your nursing colleagues about RNAO's $50 membership deal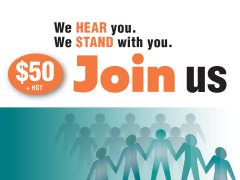 If you know someone interested in joining RNAO, now is the time. For a limited time, they can become a member for only $50 plus tax and experience all of RNAO's membership benefits.

And remember, membership includes professional liability protection (PLP), and is valid until Oct. 31, 2022.

Sign up at join.RNAO.ca.