Season's greetings from RNAO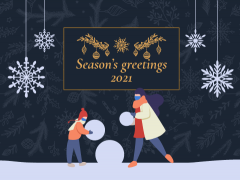 As the holidays approach and 2021 wraps up, we want to thank each and every nurse for being champions of care and responding to challenging times with knowledge, courage and compassion.
You make a difference in people's lives every day. Take a moment to reflect on all of the lives you've touched this past year: your patients and their families, your nursing colleagues, and/or aspiring nursing students.
You're integral to every health sector and have made an incredible impact when it comes to improving health for all, even during the relentless COVID-19 pandemic. Your commitment to care is present everywhere. For that, we thank you.
Together, we've raised our collective voice to move the needle on necessary changes for our profession, and we'll continue to advocate for what's right.
Times have been and continue to be tough, but you – and us together – have been tougher.
Ontarians need you. Your loved ones need you. This holiday season, we thank deeply those of you working. We urge all to please take time to care for yourself and do what you love most.
Dr. Doris Grinspun, RN, MSN, PhD, Morgan Hoffarth, RN, MScN
LLD(hon), Dr(hc), FAAN, FCAN, O.ONT President, RNAO
Chief Executive Officer, RNAO
Please note that RNAO's home office will close on Dec. 24, 2021 at 12 p.m. ET and reopen on Jan. 4, 2022 at 8:30 a.m. ET. If you want to arrange a media interview with Dr. Grinspun, feel free to contact Marion Zych at mzych@RNAO.ca.
For questions about professional liability protection (PLP) and requests for certificates of insurance during the holidays, please contact Roberta Tasson of The Magnes Group, RNAO's PLP insurance broker at 1-800-650-3435 ext. 349 or rtasson@magnesgroup.com.