RNAO welcomes Indigenous-focused organizations to BPSO program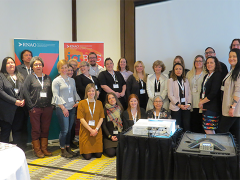 Eight new health and social service organizations from across Ontario focused on supporting the health and well-being of Indigenous persons have joined RNAO's recognized Best Practice Spotlight Organization (BPSO) program.
They are Anishnawbe Mushkiki (Thunder Bay); Chigamik Community Health Centre (Midland); Mamaway Wiidokdaadwin Indigenous Interprofessional Primary Care Team (Orillia); Ontario Native Women's Association (Fort William); Sandy Lake First Nation (Sandy Lake); Seventh Generation Midwives (Toronto); De dwa da dehs nye>s Aboriginal Health Centre (Hamilton) and Tungasuvvingat Inuit (Ottawa).
The organizations will work alongside RNAO over the course of three years to implement RNAO's best practice guidelines and answer the needs and approaches of Indigenous communities. A key focus area of guideline implementation will include Promotion of Nicotine Free Health and Wellness in Indigenous Parents, Families and Communities guideline (publication fall 2020).
These organizations are also part of a larger program entitled Supporting Health Interventions in Indigenous Communities. This program builds upon our ongoing work with Indigenous peoples and focuses on capacity development at the individual, organizational and system levels.