RNAO meets with Health Minister Christine Elliott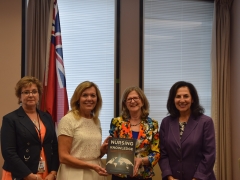 Our long-term relationship with Christine Elliott continues to flourish in her role as Minister of Health.
RNAO met with Elliott, her parliamentary assistants Robin Martin and Effie Triantafilopoulos, and their senior staff to discuss substantive policy issues to strengthen nursing, health care, and the health of Ontarians.
Attending the meeting to represent RNAO were CEO Doris Grinspun, acting policy director Sarah Boesveld, and editorial assistant Victoria Alarcon.
RNAO looks forward to continue building on our strong relationship.