RNAO asks once again: Are we preparing for a safe school reopening?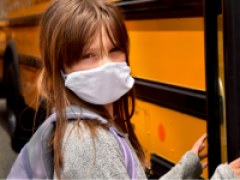 We are less than seven weeks from the start of classes and the Ontario government has not unveiled the provincial plan for the safe and timely reopening of schools in September. With this reopening, schools will house the largest population of unvaccinated people in congregate places. Indeed: children under 12 cannot currently be vaccinated against COVID-19, and only 35 per cent of the 12 – 17-year-old cohort are fully vaccinated at this time.
Every student and teacher must be protected from COVID-19 through:
improved ventilation in schools
mandatory indoor masking
smaller class sizes
mandatory vaccination of teachers (unless they have a medical exemption).
RNAO calls on Premier Doug Ford and Minister of Education Stephen Lecce to issue the government's plan. Time is of the essence to protect all Ontarians from a fourth COVID-19 wave driven by the dangerous Delta variant, which targets the unvaccinated.
Tell the premier to act now to ensure a safe reopening of Ontario schools. Sign RNAO's Action Alert to join the call.
For more information, read RNAO CEO Doris Grinspun's blog entry from July 25, 2021.