RNAO's November activities in video: Weekly updates and Small Talk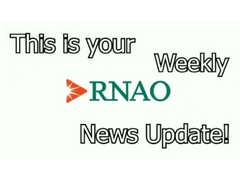 Your professional association is committed to advocating for nurses and speaking out on nursing and health-related issues. In November, RNAO focused on issues such as urging the government to #RepealBill124, National NP Week, mandatory vaccination for health-care and education workers and more.
For a deeper look into RNAO's activities throughout this month, check out the following weekly video news updates:
Small Talk episodes released in November:
Keep an eye on RNAO's Twitter each week for the weekly news updates and new Small Talk episodes.