RNAO's letter to Premier Ford calling for mandatory vaccination for health-care workers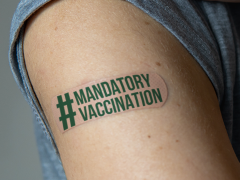 RNAO has led the advocacy for mandatory COVID-19 vaccination for all health-care workers in Ontario.
On July 20, 2022, RNAO continued to pave the way forward with an open letter to Premier Ford calling for the COVID-19 vaccination to be mandated for all Ontario health-care workers. Ontarians requiring health services must not be burdened with the fear of contracting COVID-19 from their health-care providers.
The letter draws on research to show the growing body of evidence available that speaks to the critical need for mandatory vaccination of health-care workers in Ontario, especially those in close contact with patients.
As the letter mentions: "We will continue our advocacy calling you to mandate vaccination for all health-care workers. We will also continue to call on all nurses to get two doses and become role models for other health-care workers."
In a tweet, Leader of Ontario's Liberal Party Steven Del Duca joined RNAO's call and released a plan to require mandatory vaccination for any front line worker in health care or education. It is important that elected officials support and push for this critical move to keep Ontarians safe and soften a fourth wave of COVID-19.
Read RNAO's full letter to Premier Ford and urgently sign RNAO's Action Alert to urge the premier to take action now. While you're online, visit RNAO CEO Doris Grinspun's blog for more information and weekly updates related to COVID-19, nursing, health care and more.