Nurses need to be at Queen's Park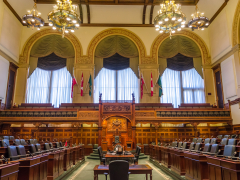 Nurses' voices must be at every decision-making table. That's why RNAO strongly encourages members like you to get involved in politics at the federal, provincial or municipal level.
RNAO applauds the following members who are seeking election and/or currently in office:
RN Tyler Watt, seeking election as Liberal candidate in Nepean
RN Marjan Kasirlou, seeking election as Liberal MPP for Aurora-Oak Ridges-Richmond Hill
RN Natalia Kusendova, PC MPP, Mississauga Centre
Read the letter from RN and Provincial Liberal Candidate Marjan Kasirlou about why more nurses are needed in Queen's Park.
Do you intend to run for office? Reach out to RNAO's policy team at policy@RNAO.ca.