Members' tweets – November 2021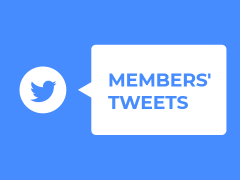 Were you active on Twitter in November? If not, it's time to log in and start tweeting.
This month, many RNAO members posted and shared tweets about topics related to health and nursing that matter most to them. Twitter is an important tool for nurses to speak out on important issues and connect directly with political leaders and reporters. When used consistently and effectively, Twitter can facilitate social movement and mobilize change for the health system.
Check out some of the tweets from November 2021:
Do you want your tweet to be featured in next month's In the Loop? Tag @RNAO on Twitter for a chance to be featured.
For more information on how to build your Twitter presence, check out RNAO CEO Dr. Doris Grinspun's blog with tips and recommendations.